78 Derngate, Northampton, a house whose interior was designed by none other than Charles Rennie Mackintosh (1868-1928).
Like many artists Mackintosh struggled for recognition and to make a living during his lifetime, but now he's absolutely stellar in the art world.
The Scottish artist is the doyen of the Uk's Art Nouveau movement, the modernist artistic movement that swept across Europe at the turn of the twentieth century.
He drew, he painted, and he designed buildings and furniture and interiors mainly before and during the first world war.
He was never that prolific and there aren't that many buildings left that he worked on (his most famous building is the Glasgow School of Art, but that suffered from a bad fire a few years back and is now closed to the public during renovation).
One building he did work on – and did all the interior design and furnishings for – is in Northampton. It was his last major commission and the only house he designed in England. And it's still perfectly preserved, maintained and open to the public.
Before you get there, you imagine it to be a grand building. After all, only those living in the grand buildings can afford to commission famous artists.
But 78 Derngate is quite ordinary. It's a smallish Georgian terraced house near the centre of town. In fact we drove right past it when we arrived.
It was owned by local businessman Wenman Joseph Bassett-Lowke, who was given the house as a wedding present and moved there with his new wife straight after their marriage.
Bassett- Lowke had a passion for modern art and commissioned Mackintosh to redesign the house completely.
Mackintosh never visited Derngate ( or Northampton) himself but worked on the project from his London base during the First World War .
That work is perfectly preserved today.
Three things strike you about it which – I suppose – all reinforce each other.
Firstly how bold and modern the designs must have been at the time … they are incredibly bright.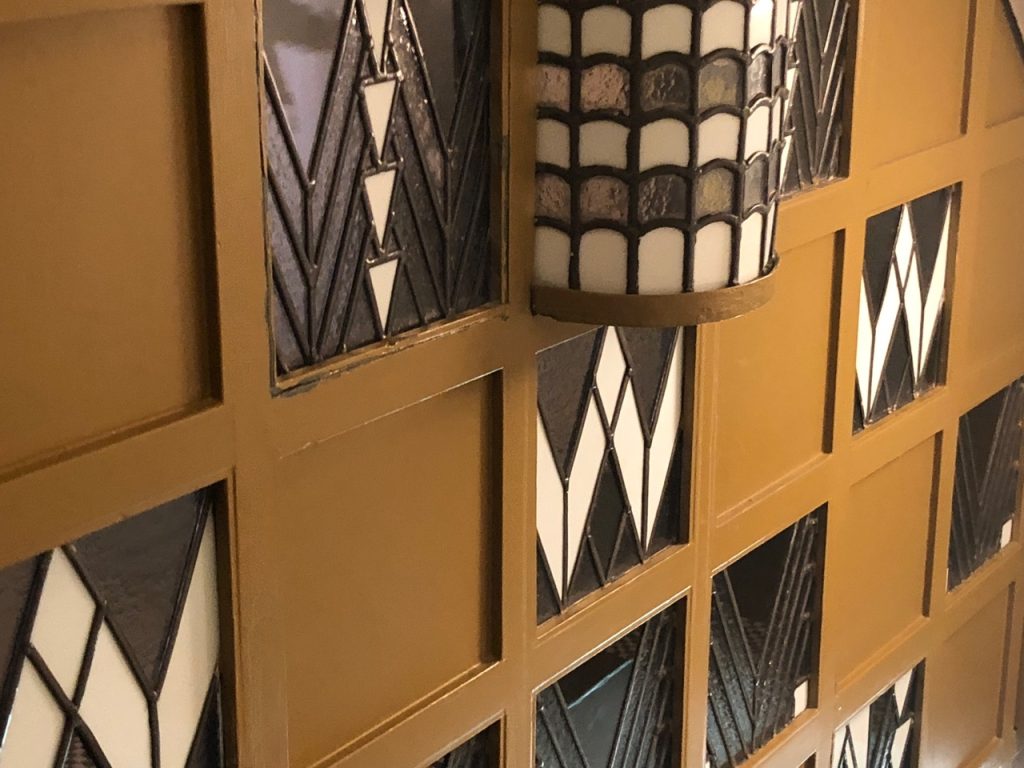 Secondly, how small and ordinary the actual house is, therefore reinforcing the idea that – at the time – this really was modern and cutting edge stuff commissioned by someone who wasn't just some rich patron of the Arts, but someone who really was committed to it.
And thirdly, although it's one hundred years old, a lot of it still seems very contemporary … showing you what a visionary Mackintosh was and how his influence lives on today.
Visiting 78 Derngate (and Northampton), is not a big trip out. There is a tea room and a small souvenir shop but don't expect all the other trimmings you get from cultural trips and venues. It's over £7 in, for adults, but it's definitely worth a visit.
Once you've been there, and seen Mackinosh's work, you'll see his influence everywhere.
For more information about 78 Derngate visit http://www.78derngate.org.uk/
Charles Rennie Macintosh in Northampton