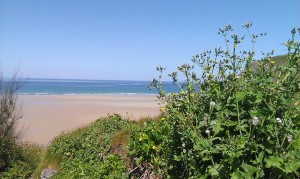 OK, it's quiz time…can you spot the difference between sea beet and samphire, or elderflower and sea buckthorn?
We can. Well, we can now we've been out foraging in Cornwall with the excellent Adam Clark. We were staying at the delightful Bethruthan Hotel near Mawgan Porth, North Cornwall last week (a great place to stay especially if you have young children). Adam is the former head chef there and the force behind their Red Stuff brand of natural jams and pickles. He's also a forager extraordinaire.
Adam would be a great guy to be with if you were stuck out in the wilds of North Cornwall with no money and nowhere to go. He'd know exactly what wild seeds, flowers, roots, vegetables and seaweeds you can eat (and which ones you can't), and he has the cooking skills needed to make them taste really good as well.
Our morning with Adam started in the comfort of the hotel. He presented a great display of what the local natural environment had to offer and – as an appetiser – gave us a few things to nibble on, (including pickled dandelion heads and deep fried seaweed!).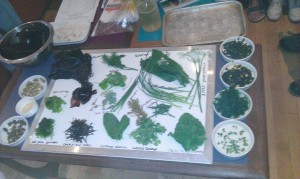 We then set off on our foraging walk. We started munching through the verges at the side of the hotel. Wild garlic, and mustard flowers were our starters.
Heading down towards toward the spectacular Mawgan Porth beach we then had our main course of wild mint, followed by goose grass flower heads and borage.
Foraging with Adam opened our eyes to the culinary possibilities of the UK countryside. He was really enthusiastic and very knowledgeable, without coming across as some new-age obsessive who thinks we should forego the benefits and practicalities of supermarkets. He also had that chef's ability to make everything sound mouth-watering, and to suggest what flavours would work with what.
The foraging walk was an education, an insight and a tonic for our taste buds. Knowing that there's so much out there that you can eat really was food for thought.
http://www.bedruthan.com/red-stuff-wild/
Adam can be found on twitter @RedWildChef
Foraging in Cornwall … food for thought