When you are out and about in the hills there's no need to miss out on great grub. Use this recipe for fab basic camp pancakes as it is sooo easy to remember and there's no faffing about with extra ingredients like you would do at home. We often make them on our trusted Trangia when camping, backpacking or on expedition.
1 cup SR flour (or plain flour for traditional pancakes)
1 cup milk
1 egg
Gradually add the milk to the flour and egg. Fry in oil or butter and remember to flip when you see those bubbles appear. So simple, and always delicious – serve with maple syrup or any favourite topping.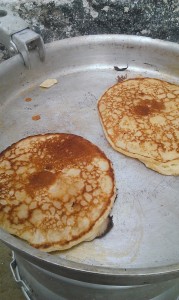 If you want to make traditional pancakes – (the kind you have with lemon and sugar) substitute self raising flour for plain/all purpose flour.