We are all keen to blow away the cobwebs and get some fresh air on Boxing Day. Some take it a step further…
Visiting relatives on the Isle of Wight we came across the annual Freshwater Boxing Day run and swim.
Freshwater is on the southern coast of the Isle, around three miles from The Needles, the famous white rocks on the south western tip of the island.
Runners congregate at Freshwater Bay Car Park, just over the road from the coved beach and head off towards The Needles at 11.00 am. They head up the hill towards the Tennyson monument, put up in honour of the famous poet who lived in the nearby Farringford House.
Hugging the coastline, the runners continue along the tops of the cliffs until they reach the viewing point at the Needles and then back, 6.3 miles long. Great views and tired legs are guaranteed!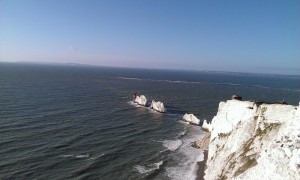 Upon completion some of the runners carry on and – without changing clothes (or stride) charge straight into the sea for what can only be described as a quick cool-down.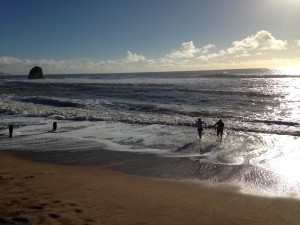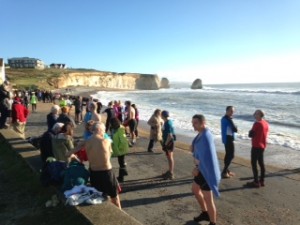 The event attracts around 50 runners each year. It's not a race. There is no winner. It's not even a timed event. It's beauty is its simplicity. It brings runners and their friends together on Boxing Day, to get a blast of fresh air and some outdoor activity as an antidote to the more sedentary day that preceded it. And for those nutty enough, it's a chance to practice their front crawl in the sea.
It's a great event. Isle of Wight Freshwater runners….we salute you!