The ridge is called Crinkle Crags. Take one look at it or walk along it and you will know why. Superb views down Great Langdale and over Scafell are the rewards for tackling this ridge walk. That is, of course, if cloud permits.
When we set off the cloud was thick, sitting on the Crags like woolly hats. Our views were therefore limited (well, non-existent). Even so,it was a memorable day's walk.
We headed off for the National Trust car park at the Old Dungeon Ghyll Hotel, walking up Great Langdale.
We passed through the Stool End Farm. Following the path we then crossed Oxendale Beck at the footbridge. We soon turned left and began a steep climb to Brown Howe and then around Red Tarn before reaching Great Knott.
From Great Knott we turned right, tackling the first Crinkle Crag which is known as Long Top. The ridge walk then leads over four other Crinkles before descending to Three Tarns which link the Crinkle Crags to Bowfell. At this point we reached into our day sacks to bring out our packed lunches…I could not help thinking that it was a shame we did not have any crinkle crisps!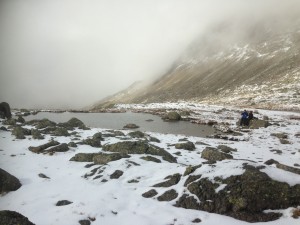 The 200 metre climb from Three Tarns to Bowfell is quick and sharp. At the summit there's a small shelter to rest and recover!
We then continued north west heading towards Esk Pike and then swung to our right to pass Angle Tarn.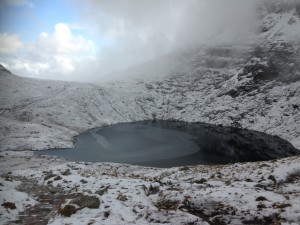 One last climb round the edge of Rossett Pike leads to Cumbrian Way path down Rossett Gill and then down Mickleden Beck and back towards the old Dungeon Ghyll.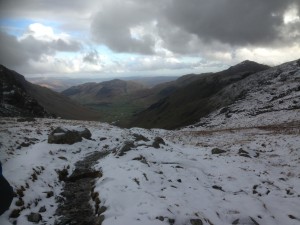 Leaving at 9.00 am and returning at 5.00 pm, the day was long and our feet were tired. Despite the poor visability the Crinkle Crags and Bowfell did not let us down. A great walk and memorable day.
Crinkle Crags and Bowfell