There are many great places to view London's iconic skyline. Greenwich Park in the south, or Alexandra Palace to the north are two well known viewing points.
This weekend we discovered another lesser known vantage point…One Tree Hill in south east London.
One Tree Hill is a small nature park on the borders between the Boroughs of Southwark and Lewisham. The 40 metre summit was – apparently – the place on which a great oak tree grew. Queen Elizabeth I stopped there to picnic in May 1602. It was called the Oak of Honour, which gave its name to the local area, Honor Oak.
Apparently it was the site of Queen Boudicca's last stand against the Romans in AD61. It was also a haunt of famous highwayman Dick Turpin.
Today the hill is a designated nature reserve and home to a wide variety of trees and wildlife. Paths lead up to the summit where a commemorative oak tree can be found. This was planted in 1905 to mark the purchase of the hill for public use by the London Borough of Camberwell.
There's an old gun emplacement which was built to shoot down Zeppelin airships in World War I. There's also a beacon built to mark the silver anniversary of King George VI in 1935. It was also used to see in the new millennium in 2000.
Best of all though is the view of London. From the top of the hill you look past London plane and oak trees to see City of London's skyline. You can't quite believe that this small patch of natural tranquillity is so near the busy and bustling City of London which you see so clearly.
One Tree Hill is not exactly the biggest peak you will ever climb. There are though few places offering such a great view of the skyscrapers of London. What's more, the chances are you will not have to share this moment with anyone else. A few locals use the park, and even fewer tourists visit it. If you visit you will probably enjoy your time there alone amongst the trees and the wildlife.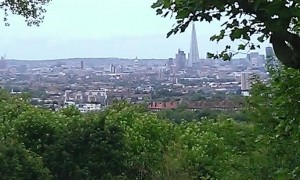 One Tree Hill: a natural vantage point for London's skyline