Visit an unspoilt beach, an iron fort and a haven for seals…all within half an hour's walk from West Pentire village.
There's a large car park located at the far end of West Pentire village, just south of Crantock and only a ten minute drive from Newquay.
From the car park follow the signs to the beach. You soon find yourself walking along the side of fields which in early summer (may and June) come alive with poppies and wild flowers.
You begin to see the coast as the path dips down.
Following a grassy verge you soon meet up with the South West Coastal Path.
You can now see an unspoilt sandy cove in front of you which is called Polly Joke.
The name sounds more like a children's entertainer than a picturesque Cornish beach. Apparently, the names derives for the Cornish Pol-Lejouack which means Jackdaw Cove.
There were no jackdaws in sight when we visited. What we did see and experience was an incredibly beautiful cove with perfect golden sand and edged by low rocks.
There are no cafes, loo or any other facilities here. Yet, for those who want to enjoy the unspoilt and completely natural environment, this adds to its charm and allure.
After enjoying a swim in the sheltered water (take care though because there's no lifeguard present here) we explored the far, southern, side of the cove.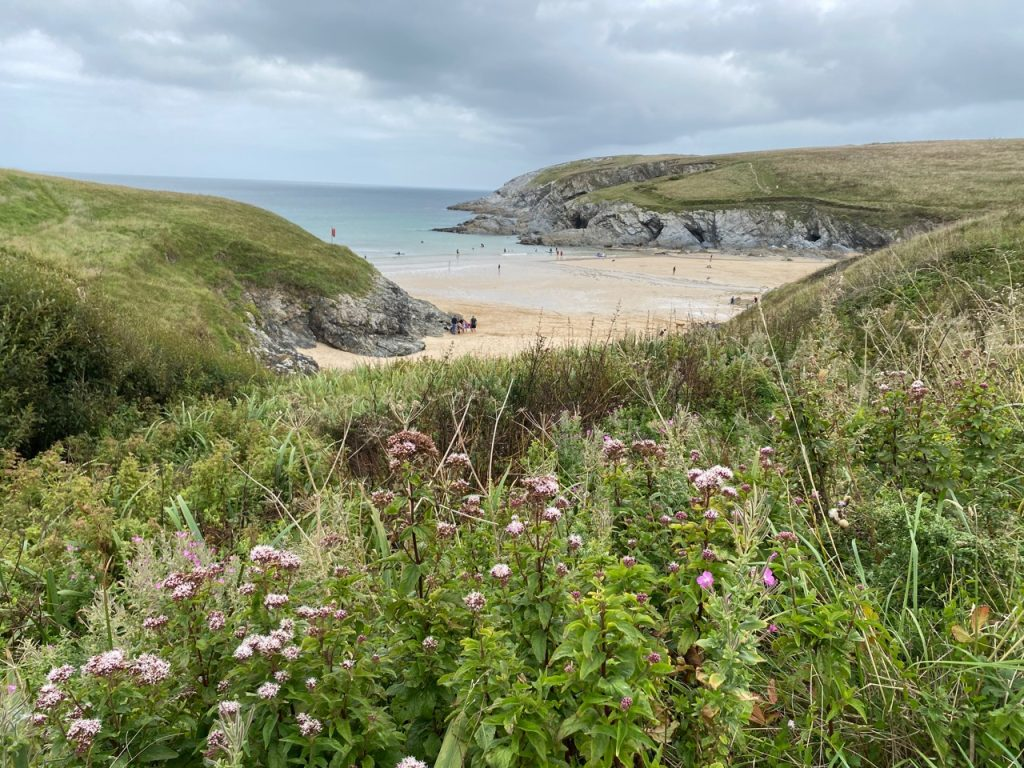 Following the coastal path we walked to Kelsey Head. Looking down at the sea we spotted some playful seals swimming. They did not seem fussed by the presence of people swimming just 50 metres away from them.
This secluded beach spot is perfect for them, giving them the space and privacy they need to pup. On a sunny day they can often be seen basking here or on the rocks nearby and swimming in the water.
When we got to the promontory at Kelsey Head we saw the seals had company on The Chick, a small rocky island just of the coast. It's so near that we saw other seals basking in the sun there.
From this spot you can see seals here all year round as they are non-migratory and generally staying close to home.
Kelsey Head itself is wonderfully atmospheric. It's the site of an ancient iron fort. It's also a Site of Special Scientific Interest. Owned by the National Trust, over 150 different species of plants can be found here.
Rare butterflies and grasshoppers have also been spotted in this area. It's also serves as a breeding grounds for razorbills, guillemots and other coastal birds.
Looking south you can see Holywell beach, the site of Holy well, a natural spring that can be seen behind rocks at low tide.
Exploring that beach had to be left for another visit as we were running late. We therefore left Kelsey Head, retracing our steps back past Polly Joke to the car park at West Pentire.
You may also like;
West Pentire to Kelsey head via Polly Joke Beach