I have to admit I was sceptical.
I mean, just walking along the beach and seeing hundreds of seals up close just didn't seem possible.
When you do see seals, they are usually on their own bobbing away in the sea in the distance. It's almost impossible to see  them that  closely unless you go on one of those fiendishly expensive boat cruises.
So I thought.
I was wrong.
We went to the beach in Ravenscar, North Yorkshire and literally walked into seals lying on the beach. It was an amazing experience.
We parked up at the car park for Boggle Hole Youth Hostel. This is set back five hundred yards or so, away from the cliffs that overlook Robin Hood's Bay.
From the car park we were presented with two choices. Either follow the tarmac road in front and head directly for the youth hostel, or turn right  down a grassy path.
We chose the latter.
After ten minutes we dropped down onto the beach and turned right towards the headland at Ravenscar, and away from village of Robin Hood's Bay to our left.
It was just a few hours after low tide so the beach and – most importantly – the headland were accessible.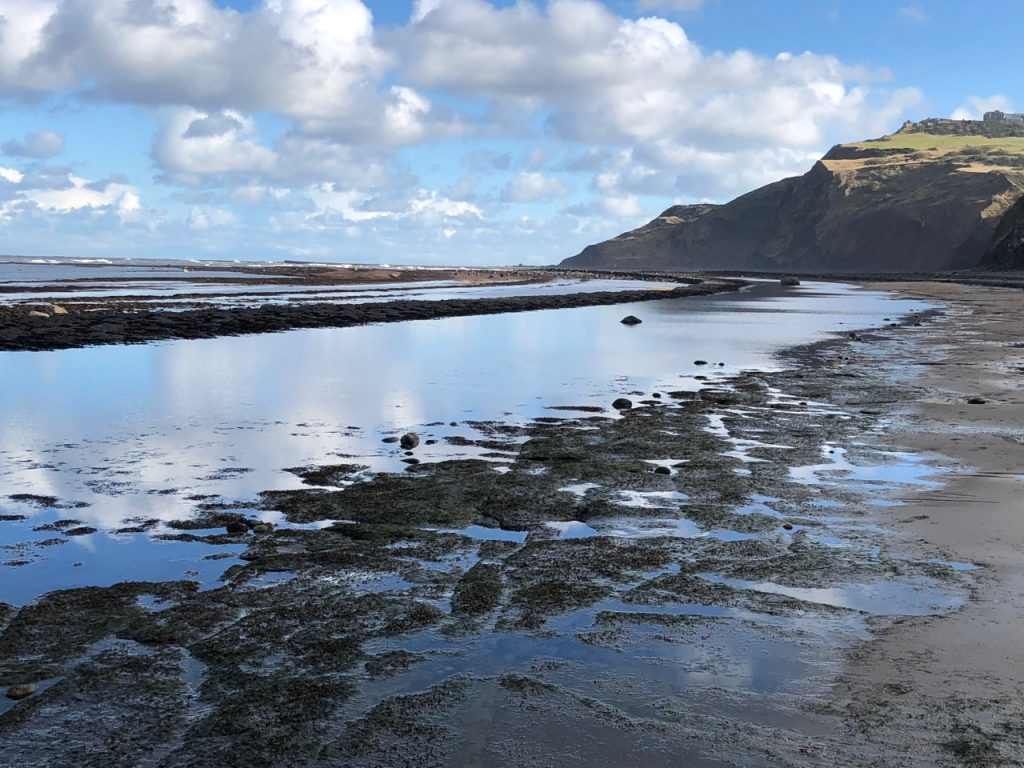 Walking was pleasant although slow, as we had to pick our way over gentle rocks and stones.
Several of our party found impressive fossils here which were lying loose on the beach.
We walked for about forty minutes or so before we reached the headland.
As I approached the headland  I was pretty convinced there would be nothing much to see. I was content though as the walk along the beach was relaxing and enjoyable.
Then I heard a high pitched but gentle screech. At first I looked up as I though it must be a bird. I then lowered my eyes and I saw a seal right in front of me, just ten metres away… and another just a few metres further on.
Amazing.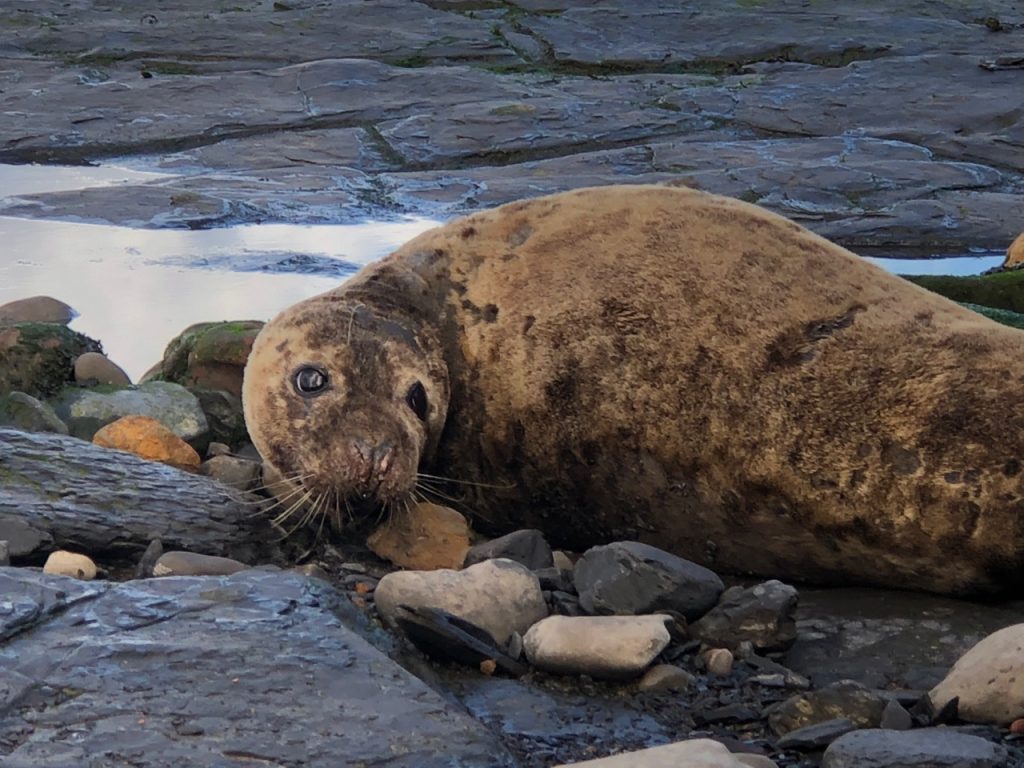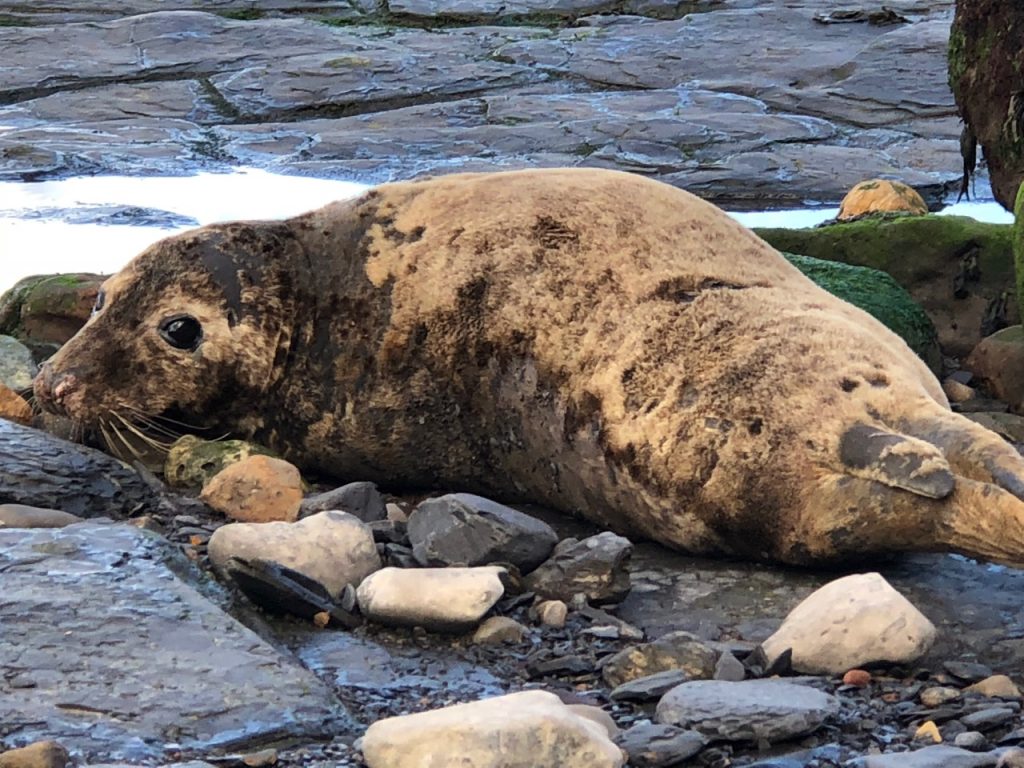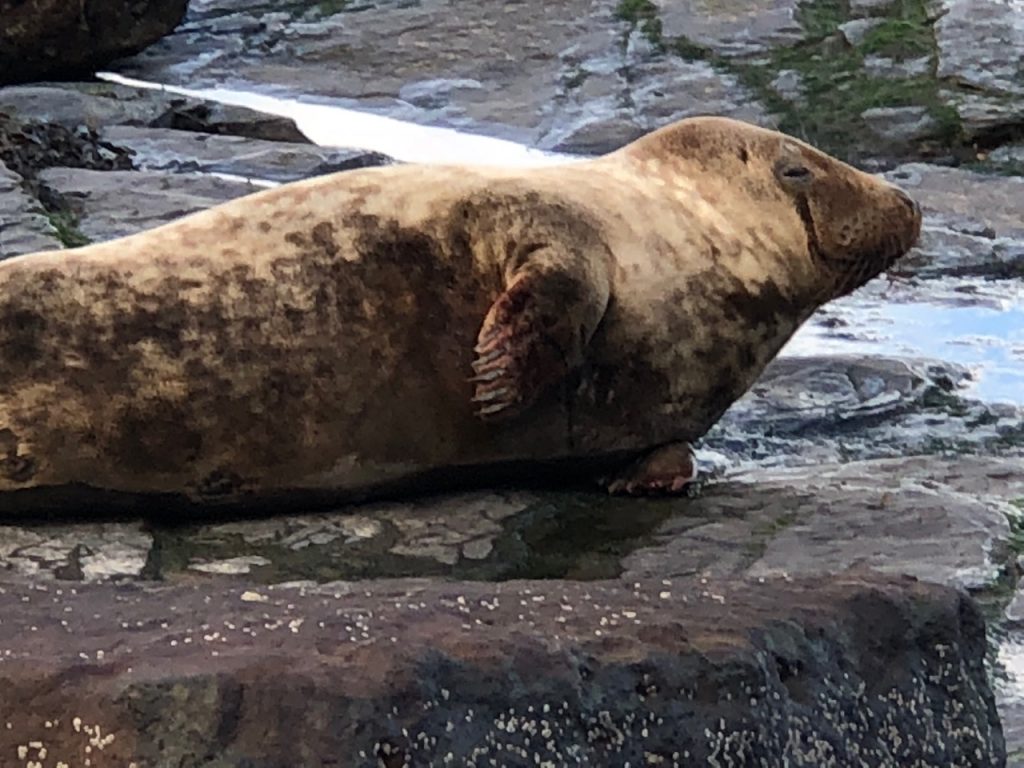 They seemed happy and content just sitting there, raising their heads occasionally and flipping their flippers, just waiting for the tide to return before they could return to the sea.
We then heading for the shoreline to sea what else was on offer.
There must have been dozens of seals perched on rocks and swimming around in the sea. We just stood and watched in wonder.
It was hard to believe what we were seeing, especially as there were so few people around: there must have only been around ten people on the whole beach. Apparently, the seals are particularly abundance at this time of year, waiting to give birth later in November.
After twenty minutes or so it was time to leave. The tide was coming in and we didn't want to get cut off.
We walked back the way we came, heading north along the beach.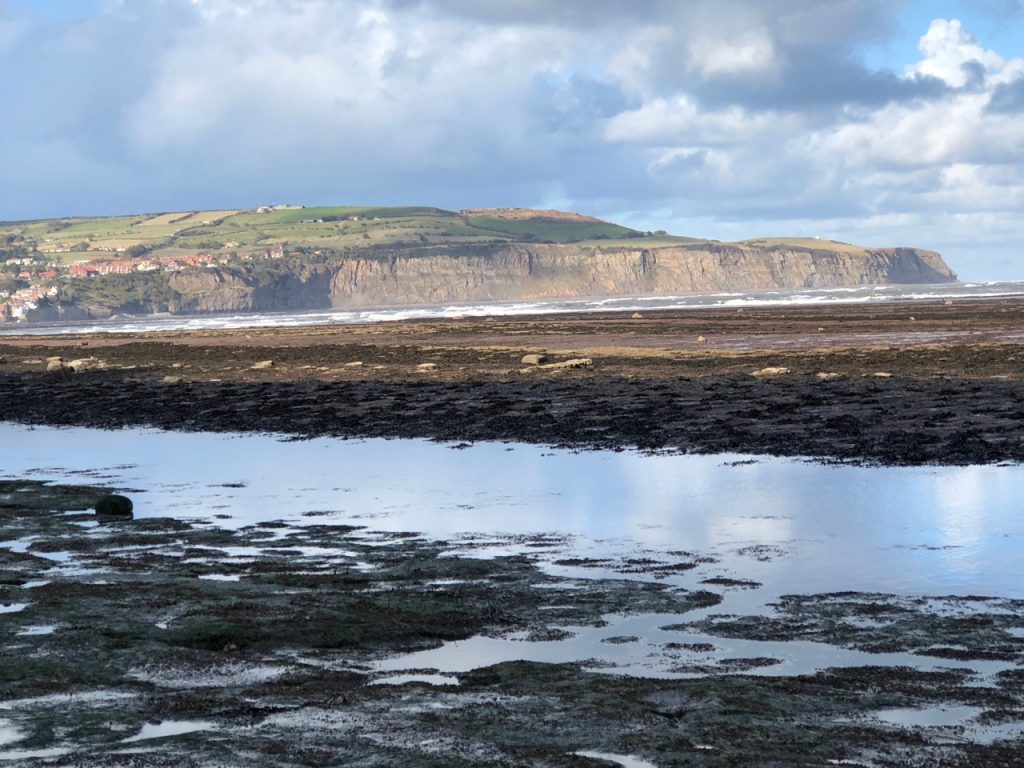 After a mile or so we reach Boggle Hole, a large inlet.
The fantastically atmospheric youth hostel was the perfect place to stop and rest.
We sat and reflected over what we had seen on the beach as we drank our hot chocolates.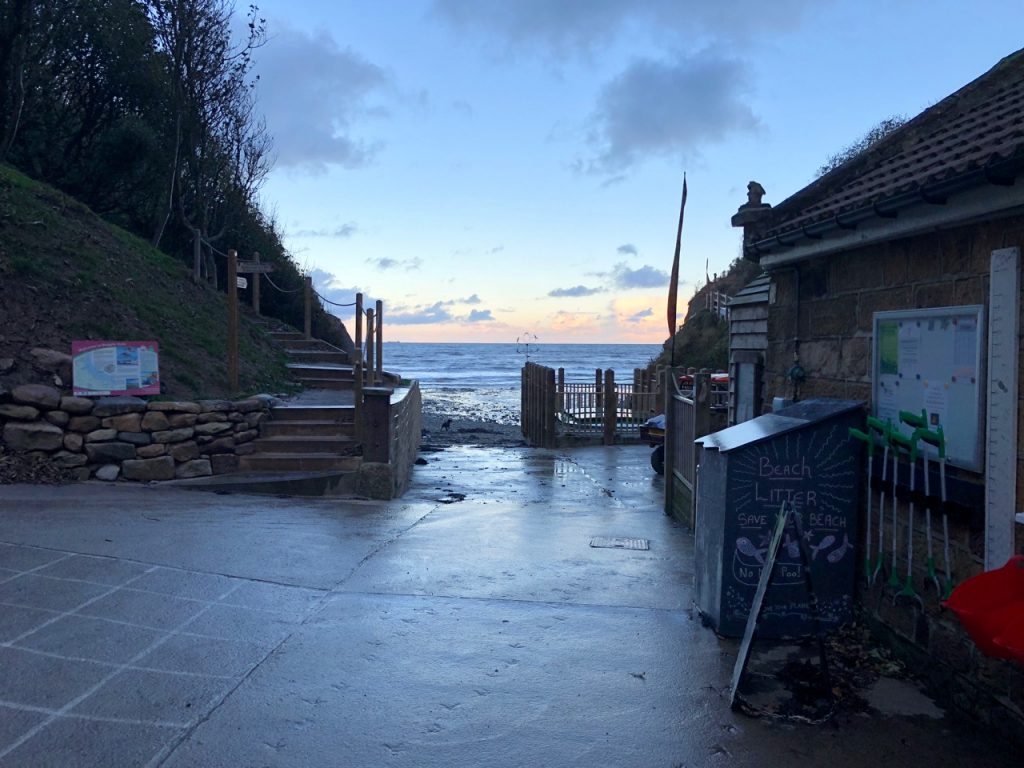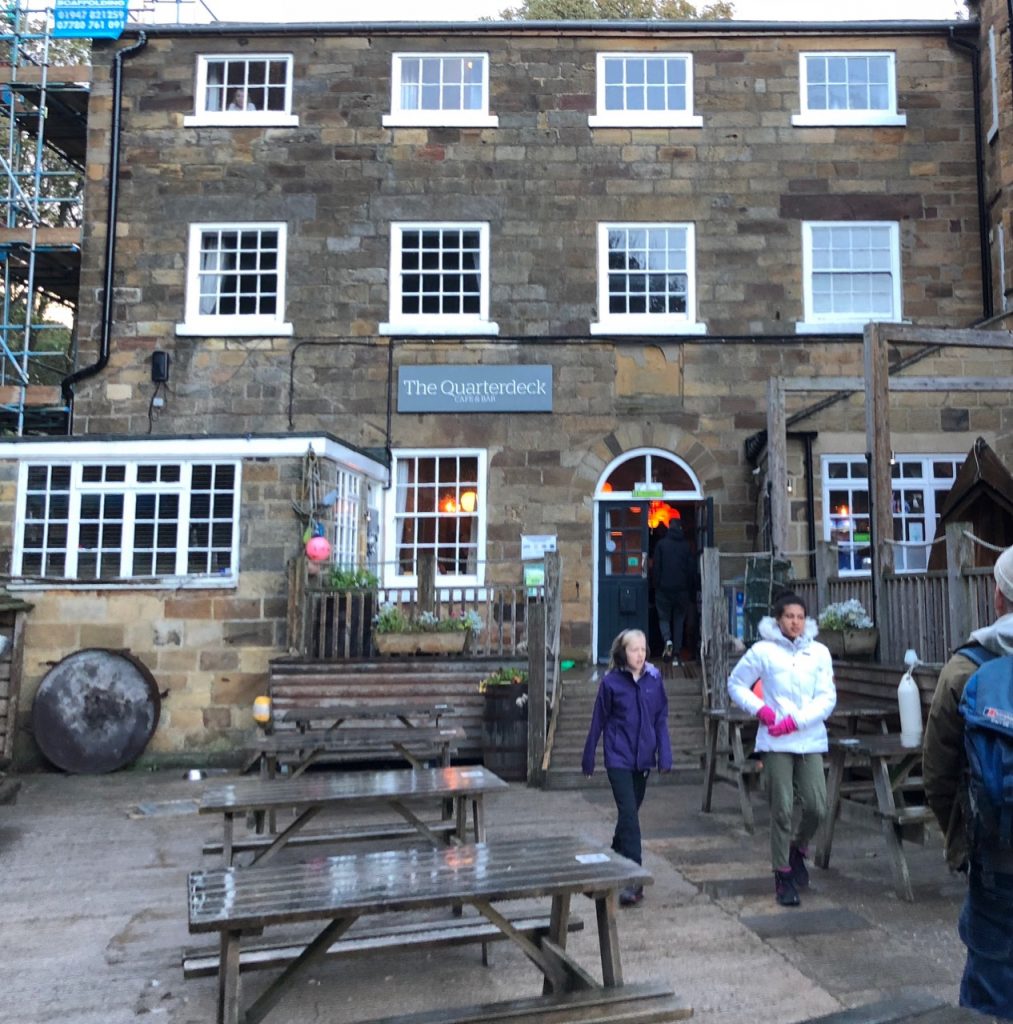 We then walked up the tarmacked roadway which took us back to our cars.
What a day, and what an experience.
I'll never be sceptical about wildlife spotting again.
For more inspiration visiting Yorkhire see;
Circular walk from Hawes including Aysgill falls
Keld- the crossing point for two famous long distance walks
for more on seals spotting see;
Seal gazing on the North Yorkshire Coast